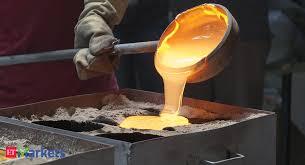 Wheaton Precious Metals (NYSE: WPM) exceeded its year end guidance in its production report released tonight.
In 2019 gold equivalent ounces came in at 706,900, up from 690,000 forecast for the year.
The gold equivalent ounces was made up of gold at 406,604 oz, silver at 22,544 ounces and palladium at 21,993 ounces.
The 2020 forecast is for 685,000 to 725,000 gold equivalent ounces.
"In 2020, gold production is forecast to remain strong primarily driven by Salobo and San Dimas. Silver production in 2020 should be stable as growth from Peñasquito is expected to be partially offset by slight decreases at Antamina and Constancia due to mine planning. Palladium production is expected to increase in 2020 as the Blitz project at the Stillwater mine continues to ramp up," writes the company.
Looking five years ahead Wheaton Precious Metals expects production growth from Peñasquito, Constancia and Stillwater as well as the commencement of the Voisey's Bay stream in 2021. Wheaton will be entitled to receive from Vale an amount of cobalt equal to 42.4% of the Voisey's Bay mine cobalt production.
By Michael McCrae
For Kitco News