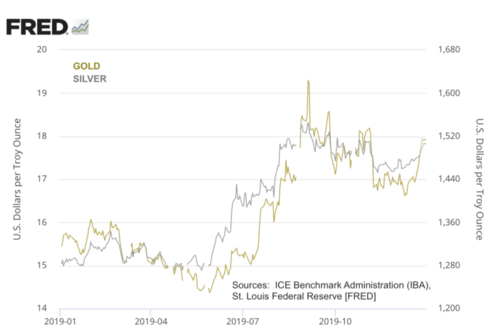 Santa Claus rally in gold and silver crowns a very good year
It was a very good year for precious metals. Gold posted a nearly 19% gain and silver rose over 17%. As you can see in the chart below, the move higher began in early summer defying the annual summer doldrums, hit an impasse during autumn, then ended the year with a surprise Santa Claus rally that took it over the $1520 mark. Silver pushed briefly over the $18 mark in late December then settled at $17.78. Bloomberg Intelligence's Mike McGlone offers a hopeful tone for our favorite precious metal as 2020 begins:
"It's a new year and decade and gold is poised to follow the dollar and equities to new highs, in our view. When, should be the primary question, particularly when the stock market and greenback succumb to some normal mean reversion. Absent a new higher dollar and stock-price plateau, gold is set to join the all-time-highs club. Gold prices are on a sound footing for further advancement in the coming year and decade, in our view. Gold prices are on a sound footing for further advancement in the coming year and decade, in our view."
Gold and Silver Prices (2019)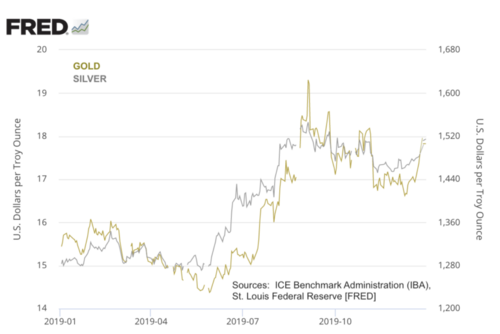 The importance of gold hitting record highs in most foreign currencies last year
In five of the top eight economies – the United Kingdom, Japan, Canada, Australia, and India – gold posted all-time highs in the local currency during the course of the year. In short, as currencies raced for the bottom, gold raced to the top. "The true hallmark of a bull market in gold," says veteran technical analyst John Murphy, "is its ability to rise relative to other major currencies. And it's doing just that."
"Historically," adds Atlas Pulse's Charlie Morris in a recent in-depth report on gold's prospects for 2020, "it has proved to be important that gold rises in all currencies, and not just in US dollars. This simple test ensures we don't mistake dollar bear markets for gold bull markets. Since 2000, the world's best currencies have been the Swiss Franc and the Thai Baht, and gold recently broke higher in both. That implies that gold is rising everywhere."
Mark Mobius (Mobius Capital Partners) explains in a NewsMax interview why he thinks investors should allocate at least 10% of their portfolios to gold:
"The reason is that gold maintains its status as a currency – a currency that has stood the test of time. There is a growing realization that the supply of fiat money is growing at a rapid pace not only because of central bank activities to drive down interest rates by printing more money but also because of the rapid and inexorable rise of cryptocurrencies. . .They are beginning to realize that fiat currencies like the U.S. dollar and euro really do not have anything behind them except the faith of the public."
And that, to sum it up, explains why gold has performed so admirably over the past year against the world's top currencies.
Gold in various world currencies (2019)