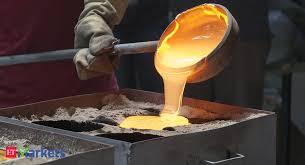 Yamana Gold's Q2 production is lower due to COVID-19 suspensions
Yamana Gold (TSX:YRI) announced today gold production of 164,141 ounces and silver production of 2.01 million ounces.
The gold miner released preliminary production results.
Production was down compared to the previous quarter when gold production came in at 192,238 ounces and silver production was 2.73 million ounces.
The company said that overall production in Q2 from most mines exceeded plan and the production in the company's annual guidance.
Costs were up in the quarter. All-in sustaining costs for the quarter were $1,125 per GEO sold due to higher production costs, such as the demobilization and ramp-ups of Cerro Moro and Canadian Malartic along with the implementation of precautionary safety measures related to COVID-19 across all operations.
Yamana expects to scale up production as the year progresses.
"Furthermore, in line with prior guidance, the Company expects to generate increasing production, improving costs and significant cash flows in the second half of the year, sequentially increasing over the third and fourth quarters. As previously guided, production is expected to weight into the second half of the year, with 54% of production expected in the second half compared to 46% in the first half," said the company in a statement.
By Kitco News