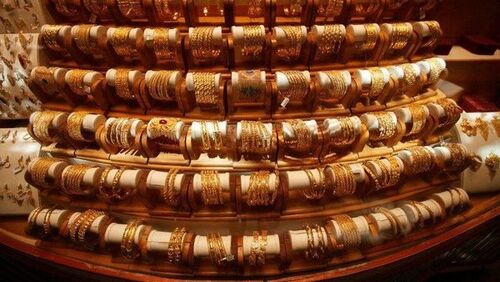 Gold prices today hit record highs for third day in a row, silver rates jump
The investment demand for gold continues to grow
Silver rates also moved higher today
Gold prices in India rose to a new high today, extending their record-setting run to the third day in a row. On MCX, April gold futures rose as much as 0.5% to ₹41,798 per 10 gram, before giving up some gains. Domestic gold prices tracked gains in global rates which are hovering around seven-year highs. Silver rates also tracked higher today with March futures on MCX rising 0.54% to ₹47,825 per kg.
Gold can move towards ₹41,900 while taking support near ₹41,600 while silver can head towards ₹48,300 while taking support near ₹47,500, SMC Global said in a note.
In global markets, gold prices were near a seven-year high as investors weigh the impact of coronavirus on global growth. Gold is up about 6% this year in global markets amid mounting concern over the effects of the virus. Spot gold was steady at $1,610.43 an ounce.
Meanwhile, China today announced that it would cut interest rates in a bid to boost the economy which has been battered by the economic fallout of the coronavirus outbreak. There are expectations that the China could announce more measures to support the economy. China's central bank had earlier said that it would offer a $43 billion boost to help businesses involved in fighting the epidemic.
Some analysts say that gold prices could top $1,650 over the coming weeks.
China's central Hubei province, the epicentre of coronavirus outbreak, on Wednesday reported 349 new confirmed cases, down from 1,693 a day earlier and the lowest since January 25, although it was accompanied by a change in methodology.
The investment demand for gold continues to grow. Holdings of the world's largest gold-backed exchange-traded fund, SPDR Gold Trust, rose 0.2% to 931.60 tonnes on Wednesday.
US central bank policymakers remain cautiously optimistic about their ability to hold interest rates steady this year, even as they acknowledged new risks caused by the coronavirus outbreak, according to the minutes of US Federal Reserve's last policy meeting released yesterday. Lower interest rates boost the appeal of non-yielding asset classes like gold. (With Agency Inputs)
Edited By Surajit Dasgupta
Updated: 20 Feb 2020, 10:37 AM IST