As Bitcoin traders bet on a big rebound, did Ethereum and XRP avoid a big drop?

As Bitcoin traders bet on a big rebound, did Ethereum and XRP avoid a big drop?
As theories on the potential sell-off of Bitcoin by miners emerged amidst declining sentiment around cryptocurrencies, major altcoins like Ethereum and XRP were at risk of a deep pullback.
With the majority of altcoins still being correlated with Bitcoin to a large extent and analysts expecting the price of BTC to decline in the short term following a weak of weakened momentum, the outlook on Ethereum and XRP, which have performed strongly in the past two weeks, worsened earlier this week.
Why Ethereum, XRP, and others avoided a deep fall
With Ethereum being down by over 87 percent from its record high and XRP having fallen by nearly 93 percent from its all-time high, the risk to reward ratio for a move down for most alternative cryptocurrencies remains low.
As such, with traders having relatively low interest in shorting alternative cryptocurrencies that have already dropped substantially from record highs, a large move down in the short term could have triggered the retest of much lower support levels.
However, after the Bitcoin price briefly dipped below $8,000, the price of bitcoin has started to demonstrate signs of a short term rebound, preventing a steep fall below the $8,000 support.
The resilience of Bitcoin in the low $8,000 area led traders like Flood to bet on a strong rebound in the short term.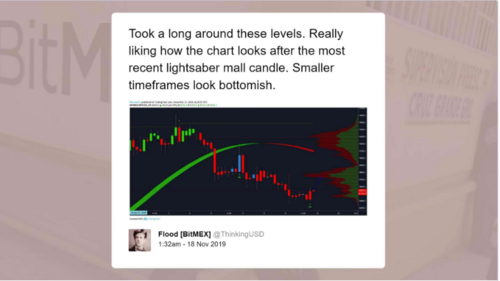 As traders look for a Bitcoin rebound, Ethereum and XRP eye recovery
If the short term price trend of the Bitcoin price reverses in the upcoming days, the sell-pressure on altcoins like Ethereum and XRP will drop, providing some relief to the altcoin market.
Since Nov. 18, the price of Ethereum has dropped from $185 to $176, by nearly five percent against the U.S. dollar.
As cryptocurrency trader and BlockRoots co-founder Josh Rager said:
"Alts are directly correlated to Bitcoin If price goes south, diversifying into alts will only make things worse If you want hedge, learn how to use futures or options to your advantage Diversification in crypto is not strategy – majority of portfolio should be BTC."
While the trend of altcoins throughout the past week has been gearing towards bearish with the minor correction of Ethereum, the gradually improving sentiment around BTC is likely to strengthen the recovery of altcoins.
The bearish scenario
In the possible scenario that the Bitcoin price steeply drops in the short term after an anticipated recovery, weak miners could capitulate, creating a bearish trend before the 2020 halving.
As Adaptive Fund partner Willy Woo said:
"As price moves downwards, weak miners go out of business. This happened when we went $6k->$3k, the bottom happened when weak miners were dead and no longer dumping onto the market. The market bottoms afterwards."
For the imminent future, traders expect that both Bitcoin and altcoins like Ethereum and XRP will see a relief rally even if a larger pullback occurs in the medium term, following a relatively big drop from $10,600 earlier this month.
Bitcoin
Bitcoin, currently ranked #1 by market cap, is down 0.54% over the past 24 hours. BTC has a market cap of $148.3B with a 24 hour volume of $21.37B.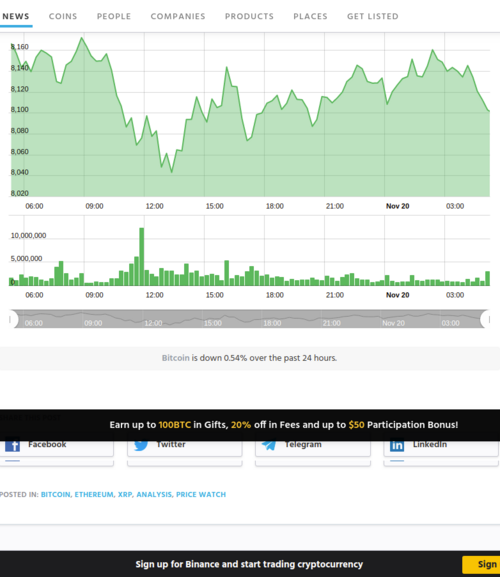 Joseph Young
November 20, 2019 at 4:38 am UTC